ENTERPRISE
SOFTWARE DEVELOPMENT
PROLAB Technologies offers a full spectrum of application design, development, maintenance and support services along with flexibility of engagement models and project scopes.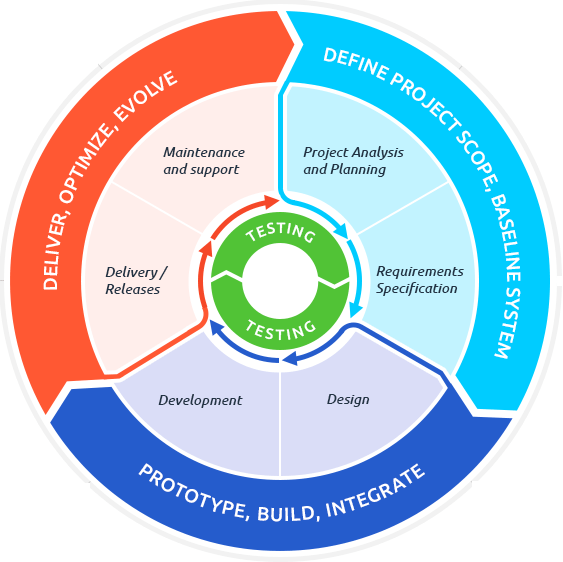 Whether you are looking for a qualified software development provider to deliver a custom enterprise software solution, an experienced integrator to create a connected software ecosystem or a diversified team of developers to handle a bunch of enterprise apps, you can turn to PROLAB Technologies.
WE COVER THE FULL CYCLE OF ENTERPRISE SOFTWARE DEVELOPMENT
Project Analysis and Planning
Project Mapping
WBS Visualization
Project Budgeting
Requirements Specification
Requirements Gathering
Use Cases and User Stories
Requirement Smells
Software Design
Low- and High-level Design
User Interface Design
User Experience Design
Software Development
Source Code and Compiled Code
Code Documentation
Unit Testing
Software Delivery
Release Management
Change Management
User Guides & Training
Maintenance and Support
On-demand Support
Long-term Maintenance
Corrective, Adaptive and Perfective Maintenance
ENTERPRISE WEB APPS
Well-versed in custom web application development, we help companies develop, implement and effectively use multifaceted enterprise solutions. We deliver a full spectrum of business web applications that accelerate enterprise activities while enabling employees to fulfill their daily tasks with less effort and time spent.
ENTERPRISE MOBILE APPS
By developing enterprise mobile applications, PROLAB Technologies provides your organization, employees, customers and business partners with a convenient mobile toolset to stay connected, have business data and processes at their fingertips and be productive regardless of their devices, time zone, and physical location.
WHY CHOOSE PROLAB Technologies?
There are various features to think about like our dedication to meet deadline, Low risk delivery model, High technology expertise ,World class team of highly experienced Lead Assessors and Consultants , know-how, ethnicity Compatibility, Modernized Processes, Reporting facilitate you to create prolonging returns for your business through consulting approach.